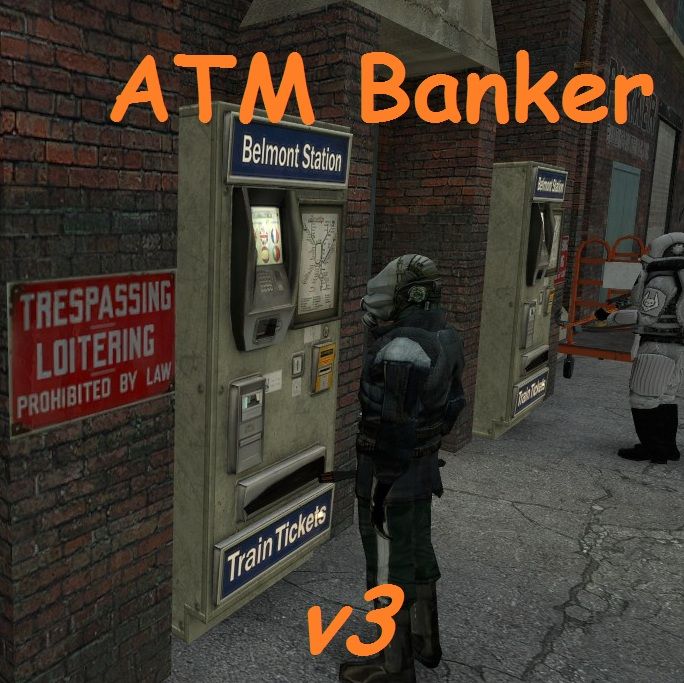 What is this?*
-This is an ATM Banker which allows users to deposit and withdraw money from their bank account.
*How does it work?*
-Press E on the ATM to get started. When you come to the ATM for the first time, you will create a PIN Code. This can be made up of either letters or digits.
-After, you can login to your account by entering the PIN to your own account and pressing 'OK' or by just pressing ENTER. If you forget the PIN to your account, no worries, just press 'Reset Your PIN' and you're good to go.
-Once you're in the main ATM menu, you can deposit into your account or withdraw money from your bank account.
-At the top you'll be able to see the amount that's in your account including which account you're logged into.
-When you're done doing stuff, just simply press the 'X' on the top right of the menu.
*Super-Admin Tab*
-Super-Admins are given a tab where they can control everyone's bank account.
-This includes: printing everyone's money and pin codes, resetting money and pin codes, withdrawing money from a specific account or depositing, and so on. This is very useful for Super-Admins.
*Anything else I should know about?*
-There's a down arrow on the security menu which reveals names of people in the server. This allows you to login to someone else's bank account, IF you have their PIN and then you can deposit and withdraw money.
-An example might be if your friend gives you their PIN so you can deposit some of your money into their bank account, etc.
*Interest System*
-There's also an interest system built in. This system gives you 0.03% of your banked money and adds it to your bank account every 2 minutes. This allows you to rack up even more cash.
¨
Link for download: http://www.garrysmod.org/downloads/?a=view&id=130759
I think this would be a good thing to add if you have all ur money on the bank and then the money resets It will still be on the bank Or a nice way to get some extra money over time




Posts

: 8


Join date

: 2012-06-24



I don't see the point of ATMs
AKA Bob Frenchman




Posts

: 1261


Join date

: 2012-05-27


Age

: 28


Location

: Canada



Well as I just said before It would prevent the money from getting reset and a nice way to gain some extra money legally



Posts

: 8


Join date

: 2012-06-24



Not really because it's still part of the database.

The money shouldn't get reset anymore though with the new RP mod
AKA Bob Frenchman




Posts

: 1261


Join date

: 2012-05-27


Age

: 28


Location

: Canada




---
Permissions in this forum:
You
cannot
reply to topics in this forum